Our Nursery Manager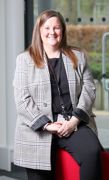 Welcome to The John Wallis Nursery, a place where your child can learn and develop within a safe and secure environment
At The John Wallis Nursery, we are committed to making sure our children receive high standards of care and learning, high expectations, and high aspirations. We are very lucky to have our very own qualified Nursery Teacher who provides high quality learning through play and adult led activities.
This is the second Nursery I have opened on an Academy site, and I have been teaching Early Years for past 18 years. I am dedicated to making sure every child's individual needs are met and our Nursery provides fundamental care.
We look forward to working in partnership with you.
Mrs H Oliver
Nursery Manager